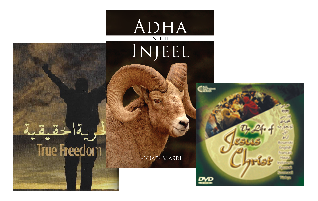 Crescent Project
Outreach Gift Pack
Share the Good News of Jesus with a Muslim friend or neighbor!
This sample packet includes:
Adha in the Injeel
Life of the Messiah DVD (Jesus Film in 16 languages)
Gospel of John (English/Arabic)
The Life of the Messiah DVD, produced by Campus Crusade for Christ, is a powerful evangelism tool that will bring the gospel to life for your Muslim friends. This Middle Eastern version of the Jesus film is specifically formatted for Muslims and has 16 audio language tracks (English, Arabic, Bengali, Bosnian, Farsi, French, Hausa, Indonesian, Kurdish (both Behdini and Sorani), Panjabi, Russian, Somali, Turkish, Urdu, and Uyghur). The DVD is in NTSC format for use in North America.
---
Share this Product
---
More from this collection